ANB032 — Atopic Dermatitis
In Q2 2023, we initiated a global Phase 2 trial of ANB032 for the treatment of moderate-to-severe atopic dermatitis
Top-line data is anticipated by year-end 2024
Th1, Th2, Th17, Th22 and dendritic cells in tissue and periphery drive atopic dermatitis pathogenesis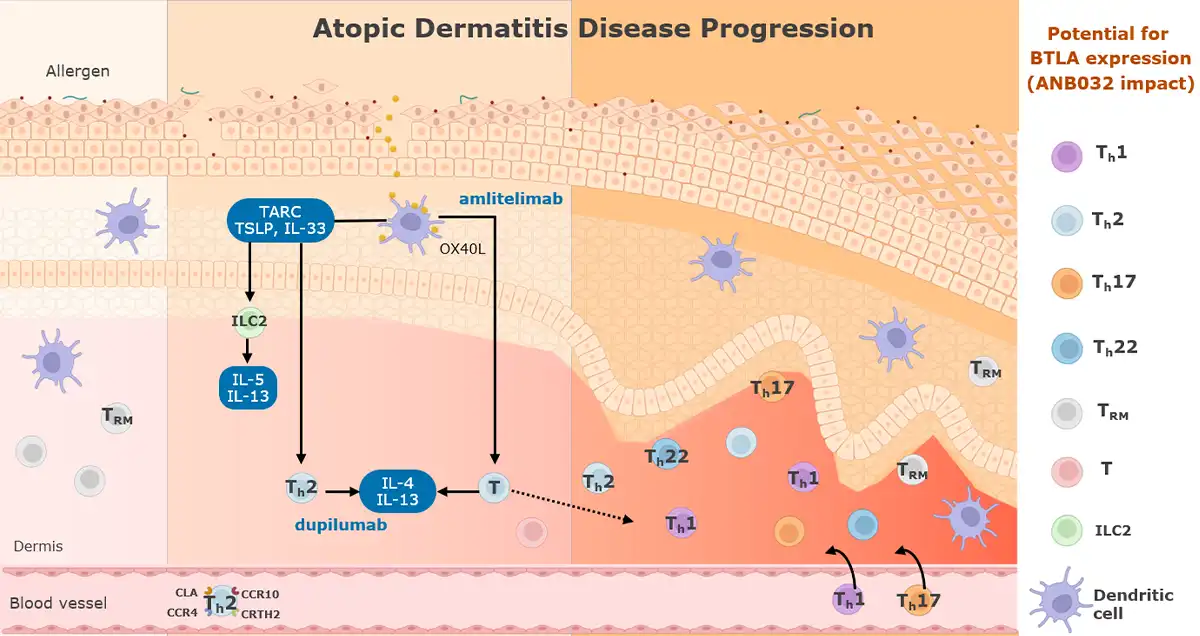 Adapted from Nature Reviews Disease Primers volume 4, Article number: 1 (2018).
Immune pathway skewing in atopic dermatitis patient populations highlights the need for new therapies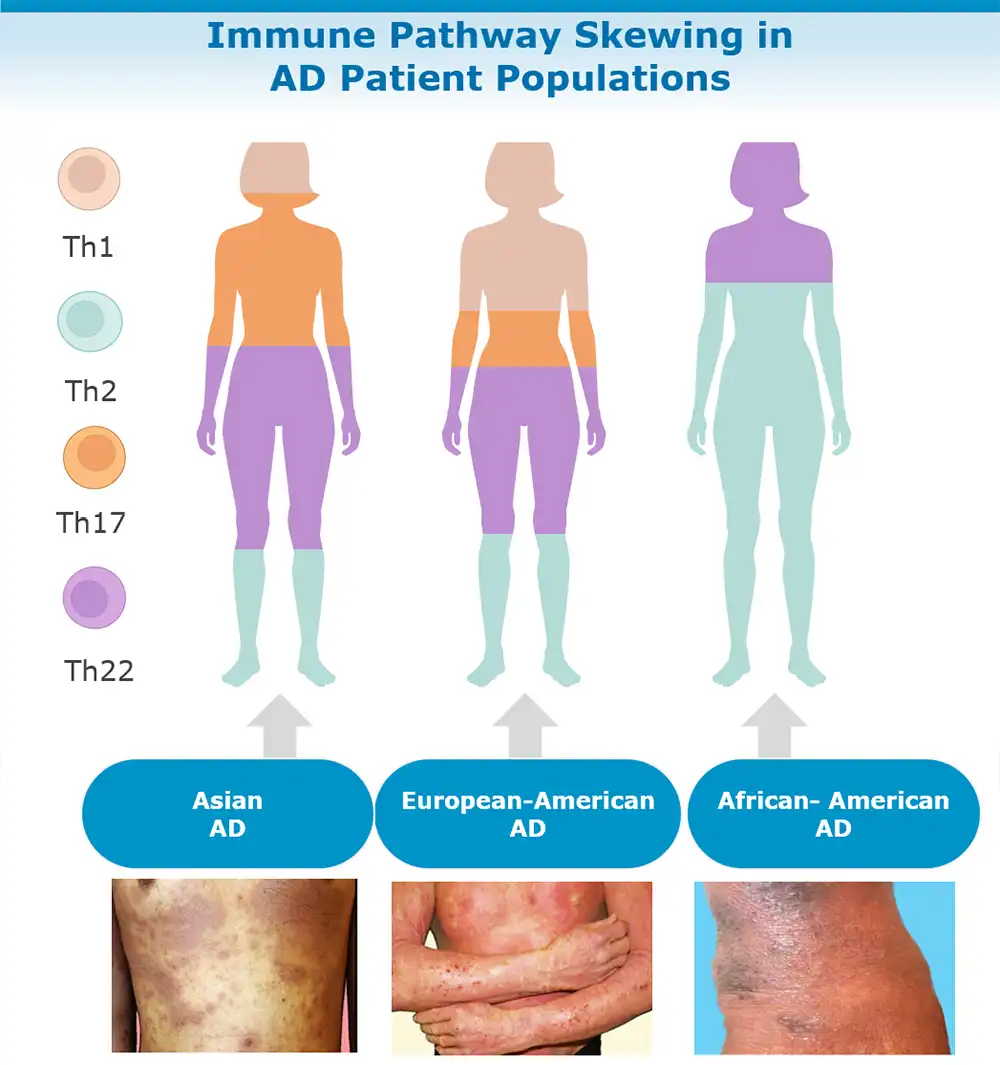 AD is highly heterogeneous involving multiple immune cytokines
Immune activation can vary by ethnicity resulting in a highly heterogeneous presentation
Substantial unmet need across all patient populations
Expect ANB032 to drive deeper responses across broader patient population
Adapted from Renert-Yuval Y, et al. Ann Allergy Asthma Immunol 2020;124:28–35; Czarnowicki T, et al. J Allergy Clin Immunol 2019;143:1–11
ANB032 inhibits Th1, Th2, Th17 and Th22 cytokine secretion more broadly than anti-OX40L in AD patient-derived PBMCs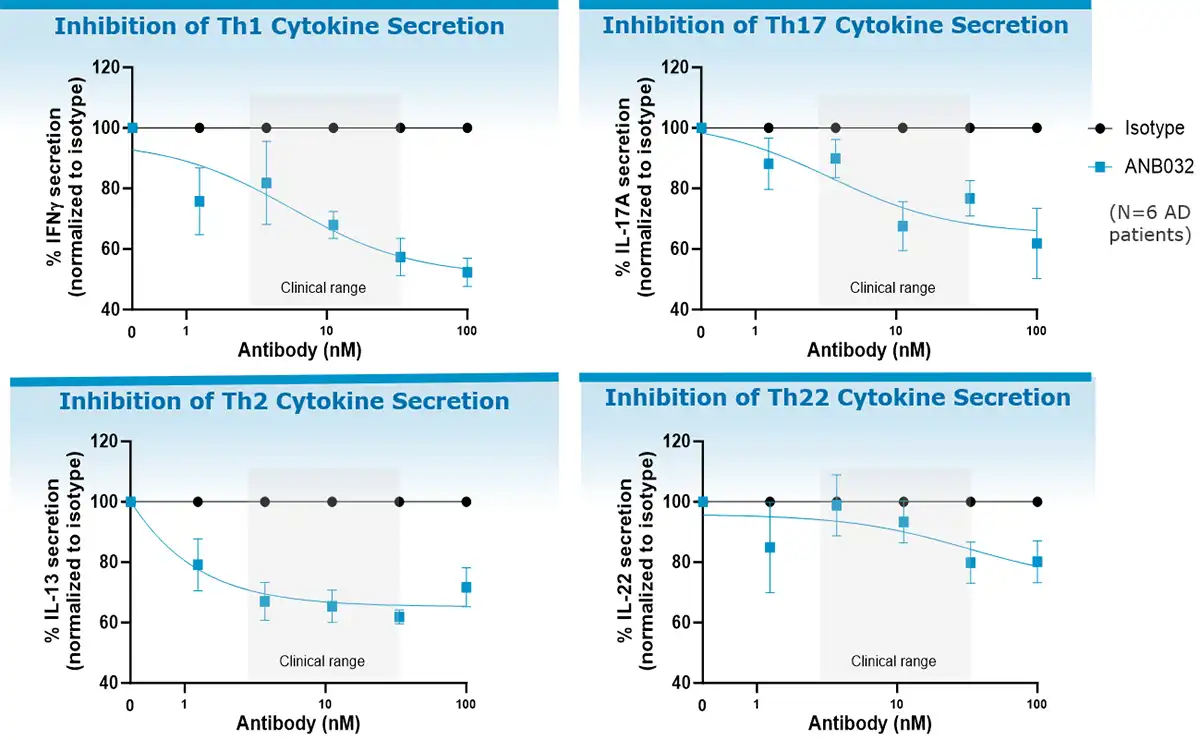 Sanofi's OX40L P2b AD data demonstrates impact on disease pathology beyond Th2; While ANB032 more broadly inhibits T cell cytokine secretion, it additionally modulates dendritic cells inducing Tregs
To access scientific publications on this topic, please click here.
To learn more about our clinical trial for Atopic Dermatitis please click here.