ANB032 — Overview
ANB032 is a novel, non-depleting antibody that binds to the BTLA checkpoint receptor and inhibits activated T cell proliferation, reduces inflammatory cytokine secretion and modulates dendritic cell (DC) function, including inducing Tregs, both in inflamed tissue and the periphery
ANB032 has potential to treat a wide range of systemic inflammatory diseases
ANB032: IgG4 antibody (non-depleting)
Binds to BTLA on epitope proximal to immune cell
Fc receptor binding profile contributes to differentiated potency
Non-blocking of HVEM engagement with optimized antigen binding affinity
ANB032's agonist signal modulates immune cells
Inhibits activated T cell proliferation
Reduces inflammatory cytokine secretion
Modulates DC function, including inducing Tregs
BTLA is key node of immune regulation
B and T lymphocyte attenuator (BTLA) is a potent modulator of T cells, B cells and dendritic cells (DC)
Expressed only on immune cells and preferentially on activated immune cells
Dysregulation of BTLA pathway accelerates onset and exacerbates disease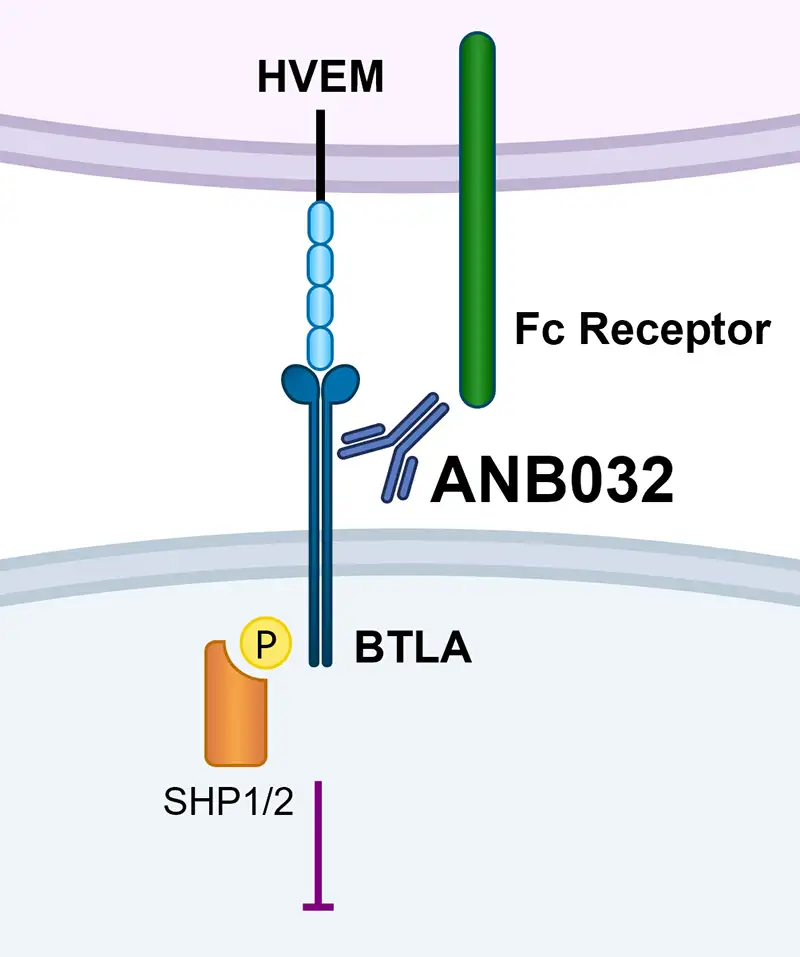 Jurkat BTLA SHP2 Recruitment Assay methodology: BTLA and SHP2 are fused with complementary enzyme fragments, when SHP2 is recruited to activated phosphorylated BTLA, the enzyme donor and enzyme acceptor form active β-gal that is detected by chemiluminescence.
ANB032 demonstrated favorable safety and tolerability with rapid and sustained PK/PD activity
96 healthy volunteers in SAD and MAD cohorts in Phase 1 study
Favorable ~2-week half-life with IV and SQ dosing
Full receptor occupancy (RO) within hours and maintained for >30 days
Rapid and sustained target engagement on both T and B cells
Duration of reduced BTLA expression persisted in dose-dependent manner
Well-tolerated with no dose limiting tox
No SAEs
Most AEs mild-to-moderate, short duration, dose independent and resolved without sequelae
No evidence of infection risk or cancer risk to date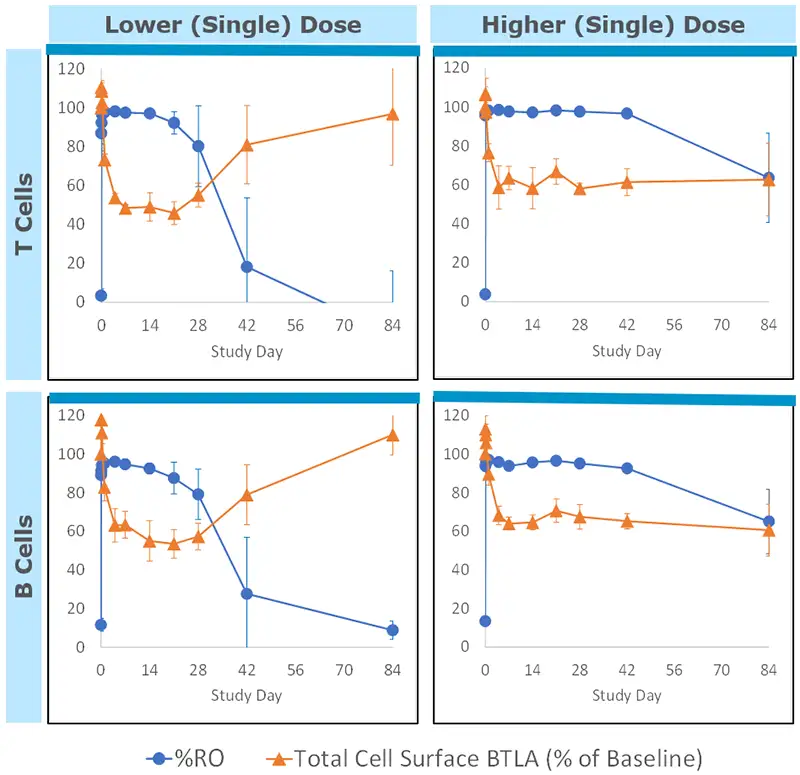 To access scientific publications on this topic, please click here.
Learn more about our clinical trial for Atopic Dermatitis click here.