ANB019
ANB019 is an antibody that inhibits the function of the interleukin-36-receptor, or IL-36R, which we are initially developing as a potential first-in-class therapy for patients suffering from generalized pustular psoriasis (GPP) and palmoplantar pustulosis (PPP), previously referred to as palmo-plantar pustular psoriasis.
GPP is a chronic, life-threatening, rare disease with no currently approved therapies. GPP is a systemic inflammatory disease characterized by the development of widespread pustules marked by idiopathic exacerbations. In severe cases, GPP patients can die from cardio-pulmonary failure, exhaustion, toxicity and/or infection subsequent to occurrences of pustular flares. Patients with GPP suffer without robust therapeutic options because currently approved psoriasis management therapies have not demonstrated clear efficacy in the treatment of this condition. Studies have shown that GPP is associated with mutations that lead to abnormally high signaling through the IL-36R, which we believe can be addressed by treatment with ANB019. We estimate GPP affects approximately 3,000 patients in the United States.
PPP is a non-fatal form of pustular psoriasis that we estimate affects approximately 2% of total psoriasis cases, approximately 150,000 patients in the United States alone. Patients experience a chronic occurrence of sterile pustules on their hands and feet, while systemic levels of IL-36 cytokines and other inflammatory disease biomarkers are also elevated. Patients with severe symptoms may have significant pain and be unable to stand, walk or do manual work, resulting in greatly diminished quality of life.
We have completed a double-blind, placebo-controlled healthy volunteer Phase 1 trial of ANB019, where 36 subjects were administered a single subcutaneous or intravenous dose of ANB019 ranging between 10 mg and 750 mg, 18 subjects were administered multiple ascending doses of ANB019 intravenously ranging between 40 mg and 300 mg weekly for four consecutive weeks and 18 subjects were dosed with placebo. ANB019 was well-tolerated by all subjects and no dose-limiting toxicities were observed. The most frequent treatment-emergent adverse events observed in the single ascending dose cohorts were upper respiratory tract infections in 10 of 36 (28%) subjects dosed with ANB019 versus six of 12 (50%) subjects dosed with placebo, and headache in 10 of 36 (28%) subjects dosed with ANB019 versus 3 of 12 (25%) subjects dosed with placebo. In the multiple ascending dose cohorts, the most frequent treatment-emerging adverse events observed were headache in 7 of 18 (39%) subjects dosed with ANB019 versus 1 of 6 (17%) subjects dosed with placebo. No serious adverse events were reported among any subjects in the trial. The in vivo half-life of ANB019 was approximately 28 days for both subcutaneous and intravenous routes of administration, with bioavailability of approximately 90%. A single dose of ANB019 at certain dose levels was able to completely suppress IL-36 cytokine function for 85 days, as measured by IL-36 cytokine-mediated release of IL-8 using an ex vivo pharmacodynamic assay. We presented data from this Phase 1 trial at the 2018 European Academy of Allergy and Clinical Immunology (EAACI) Congress on May 28th 2018, (click here to download).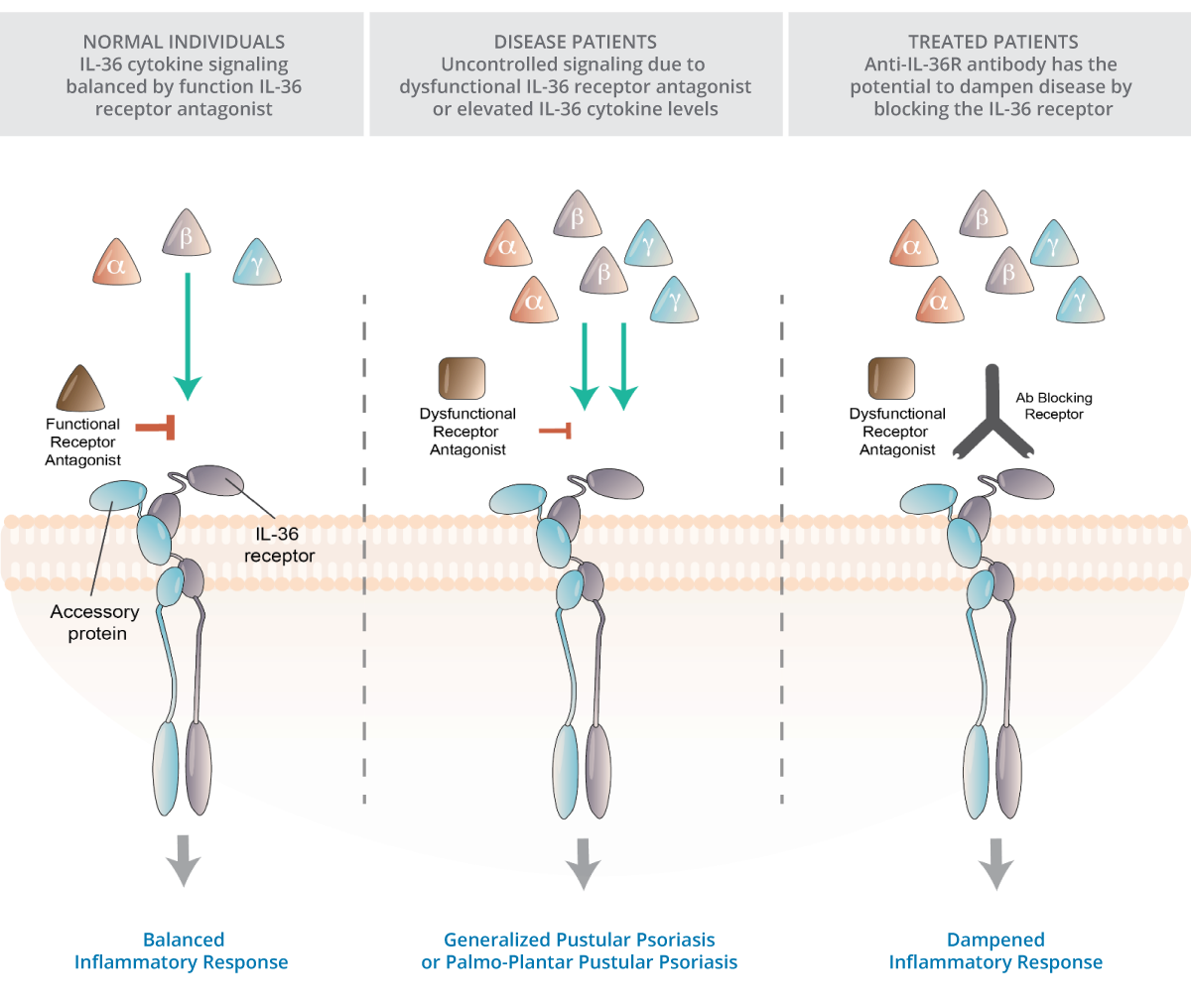 The favorable safety, pharmacokinetics and pharmacodynamic properties of ANB019 demonstrated by the aforementioned Phase 1 trial support advancement of ANB019 into Phase 2 studies for GPP and PPP. We have initiated a 10-patient open-label Phase 2 trial of ANB019 in GPP, also known as the GALLOP trial and top-line data are anticipated by mid 2019. Patients are dosed with a 750mg intravenous loading dose of ANB019 upon enrollment, followed by 100mg subcutaneously-administered monthly doses of ANB019 for a treatment period of up to 16 weeks post enrollment and followed an eight-week follow-up period.
We also plan to initiate a placebo-controlled 50-patient multi-dose Phase 2 trial in PPP, also known as the POPLAR trial, where top line data is anticipated in the second half of 2019.
To access scientific publications on this topic, please click here.