Rosnilimab
Our PD-1 agonist antibody, known as rosnilimab, demonstrates best-in-class activity in vitro with superior inhibition of T cell proliferation, reduction in inflammatory cytokine secretion (Th1, Th2, Th17) and depletion of PD-1+ T cells via effector function. 
We announced positive top-line data from a healthy volunteer Phase 1 clinical trial of rosnilimab in November 2021. 
A total of 144 subjects were enrolled in the randomized, double-blind, placebo-controlled healthy volunteer Phase 1 trial, where single ascending dose (SAD) cohorts were administered single subcutaneous or intravenous doses of rosnilimab ranging between 0.02mg to 600mg or placebo, while multiple ascending dose (MAD) cohorts received four weekly subcutaneous doses of rosnilimab ranging between 60mg and 400mg or placebo. 
Rosnilimab was generally well-tolerated and no dose limiting toxicities were observed. No serious adverse events were reported in subjects receiving multiple doses of rosnilimab or placebo. 
Pharmacokinetic analyses demonstrated a favorable profile for rosnilimab with an estimated two-week half-life for subcutaneous and intravenous routes of administration. Full PD-1 receptor occupancy was observed rapidly during the first week following single subcutaneous rosnilimab doses. These data support monthly subcutaneous dosing of rosnilimab for future patient trials. 
Rosnilimab's pharmacodynamic activity resulted in rapid and sustained reduction in the quantity and functional activity of PD-1+ T cells, which are known to be pathogenic drivers of inflammatory diseases. Conventional T (Tcon) cells (CD3+, CD25 low) PD-1+, which represented approximately 25% of peripheral T cells at baseline, were reduced by 50%, including in both CD4+ and CD8+ subsets, in a dose-dependent manner and in correlation with receptor occupancy (Table 1). This effect was maximized on high-PD-1+ Tcon cells, which represented approximately 5% of peripheral T cells, with 90% reduction relative to baseline. Conversely, total T cells (CD3+), total Tcon cells (CD3+, CD25low) and total regulatory T (Treg) cells (CD3+, CD4+, CD25 bright, CD127-) were unchanged (<5% change from baseline), resulting in a consistent ratio of PD-1+ Tcon cells to total Treg cells post-treatment in healthy volunteers. No effect (<5% reduction from baseline) was observed on any of the aforementioned cell types in placebo-dosed subjects.  We are advancing rosnilimab into a global Phase 2b trial to treat rheumatoid arthritis with study initiation in Q3 2023. Top-line data is anticipated by mid-year 2025.  PD-1+ T cells are clinically validated drivers of disease in rheumatoid arthritis (RA).  RA patient synovial biopsies have dense T cell infiltrates, with >80% of T cells expressing PD-1 and insufficient PD-L1 expression to down-regulate T cell activity. 
Rosnilimab targets multiple distinct inflammatory mechanisms addressed by approved therapies to treat RA 
We also plan to advance rosnilimab into a second global Phase 2 trial, in an indication to be announced, with study initiation anticipated by year-end 2023.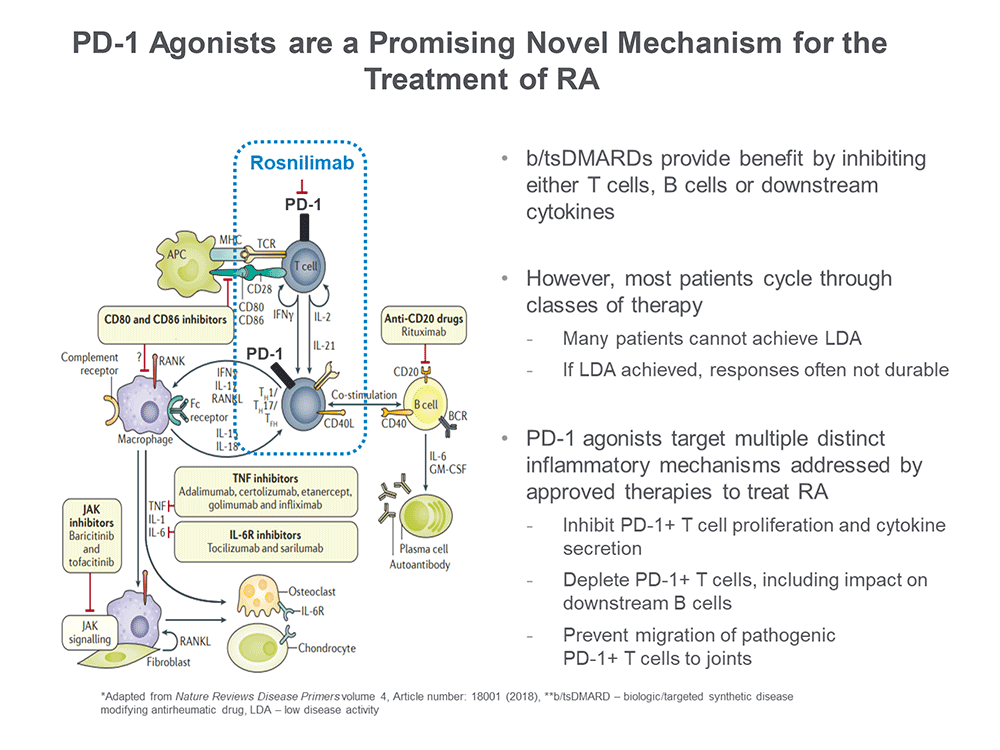 To access scientific publications on this topic, please click here.